3D Community Gravity
By Aaron Dishno Ed.D.
Navigate to:
Admin -> My 3D Communities -> Edit 3D Community -> Edit Landscape and Scene
Click 3D Community Gravity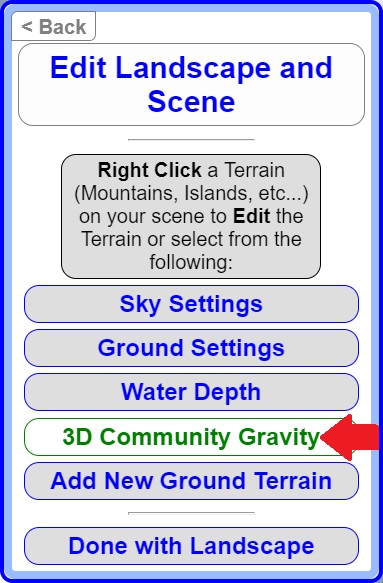 3D Community Gravity
This Gravity Setting is used when someone 3D Browses your 3D Community in Production. 
Note that the Gravity Setting in Editor Settings is used when you are in Admin Mode with one exception. When you open the 3D Community Gravity Settings menu option, the Scene will temporarily ignore the Editor Setting so that you can experience the 3D Community Gravity Setting.
Next, navigate to:
Admin -> My 3D Comunities -> Edit 3D Community -> Edit Landscape and Scene
and Select 3D Community Gravity.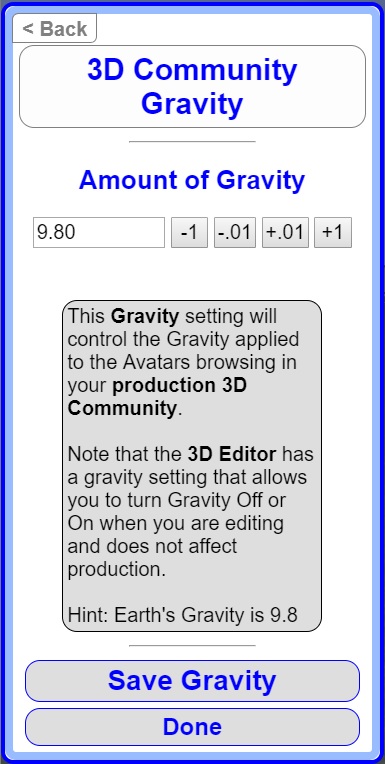 Gravity Amount is applied in the negative Y direction.
Zero gravity allows you to Walk all directions (leaving the ground).
Earth's Gravity is 9.80
Moon's Gravity is 1.62
Mar's Gravity is 3.71
Jupiter's Gravity is 24.79
Set the Gravity you desire and click Save Gravity
For the Demo I am leaving Gravity at 9.80
Next, explore the following Landscape and Scene Settings as you turn your 3D Community into an Island:
Then, we will add our 3D Building to the 3D Community.