By Aaron Dishno Ed.D.
A little over a year ago, my mother-in-law Maggie lost her life due to complications resulting from ALS.
We all have special people that are no longer with us.
Yet it only takes a simple object, song, or words to trigger the wonderful memories I have for each of them.
For example, when I see the movie The Social Network, it reminds me of Maggie's words (in her Maine accent), "Aaron, you're smartah than that guy, why don't you come up with something bettah and make millions. I know you can do it!"
Every time, it energizes me to keep working hard on 3D Browsing!
This project is for Maggie for believing in me and about honoring everyone that has moved on to Heaven including my cousin Dustin, father-in-law Peter, Uncle Al, grandparents, and my friends Steven, Jan, Stephen, Cody, Barry, Anker, and countless others.
Using 3D Browsing, I am creating a way to Visit Someone in Heaven. It is all about triggering the memories and honoring the good times we shared.
About the Project:
To me, Visit Your Someone in Heaven means to take a virtual walk down a path seeing memorabilia, stories, 3D Things, pictures, videos, and audio that remind us of the life of someone special. They deserve to be honored and remembered. This would be that place.
Picture a video-game-like web page that shows Saint Peter asking, "who you would like to visit?" You type their name and the gates open up for you to walk a garden-like path of memories in 3D taking you through the stages of their life; childhood, teenage years, adulthood, children, career, grand-children, hobbies, and accomplishments.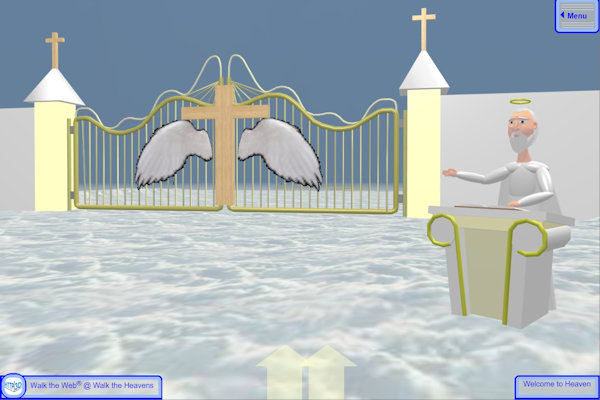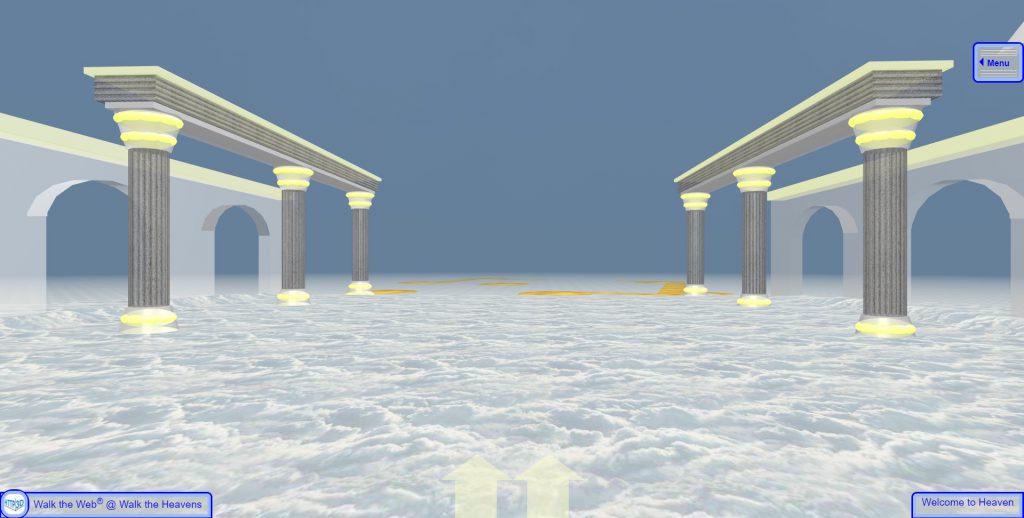 Watch our progress at: http://3d.walktheheavens.com
If their name isn't found, you would be able to add their name, dates, eulogy, pictures (for slide-shows), favorite 3D Things, videos, audio, etc… and in just minutes take a virtual walk down your creation and share it with others.
The same website code would also support websites for Pets in Heaven and a non denominational version to Walk the Memories.
We plan to keep the basic service free to everyone, providing we can raise the funds needed for the project.  We would then charge for creating custom 3D Things, custom 3D Scenes, and advanced features to maintain the long-term costs of running the website.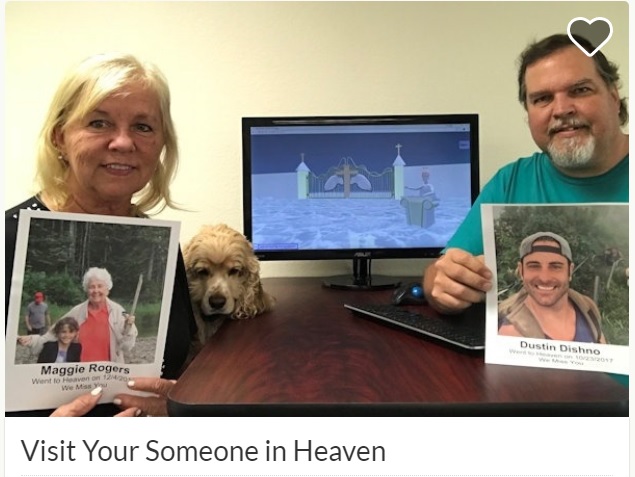 If you help fund the project, we will give you the Advanced  Features for free.
Background:
This project is another stepping stone in perfecting our 3D Browsing patented technology that I have been working on for over 7 years. I was the webmaster and a Programmer Analyst III for San Bernardino County for 11 years, taught classes in programming and algebra at La Sierra University, and have a doctorate in Education administration and leadership.
Read more about our 3D Browsing project at: https://www.WalkTheWeb.com
Maggie's words gave me and my wife Karen the courage to leave our jobs, cash in my retirement, and follow our dreams.  With prayer and support from family and friends, we relocated and opened an office; working 12+ hours a day to make it a reality. It is coming along and we will get there, but we need more time and money to make it work for everyone. We need your help.