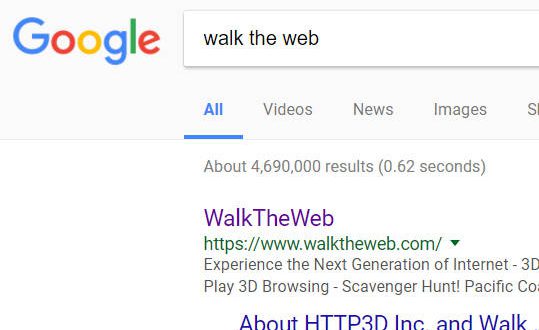 By Aaron Dishno Ed.D.
I call my business "Walk the Web", therefore, when you try those words in a search engine, I want you to find me first!
When I type Walk the Web into Google, I get 38 million possibilities. So how did I get the top spot????

Of course, the uniqueness of your name is a big factor. If you are trying to get first under Web Programming, it is not likely you will get there.
Before you pay a lot of money on Search Engine Optimization (SEO), try this simple tip…
Use the Search Words in as many social networks as possible. The more you use it, the more likely search engines will rank you as the best response.
Here are some of the social network names I have:
https://www.facebook.com/walktheweb/
https://twitter.com/walktheweb/
https://www.pinterest.com/walktheweb/
Where the name wasn't available, I took the next best thing that includes the name in it:
https://www.instagram.com/walktheweb3d/
Yelp ties HTTP3D Inc. to Walk The Web
And on my personal pages, I always mention "Walk The Web".
HTML5GameDevs.com forums, I wrote an article pointing back to my walktheweb.com website.
My https://www.facebook.com/adishno site has numerous posts and shared articles with the facebook Walk the Web page.
The bottom line, the more you use the name and register the name in social media, the more likely you will rise in the search results.
Give it a try and Good Luck!