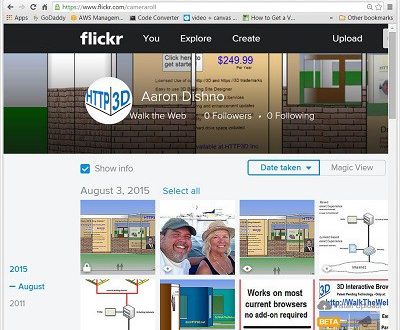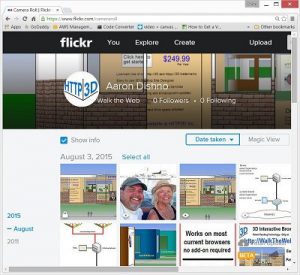 Interesting thing… I am trying to take a common phrase "Walk the Web" to search engines and make it mine! So here comes the study on Search Engine Optimization.
First, on my web pages I had created as much supportive content as possible, changed meta tags, page titles, etc… Then I tried to register the name in as many social networks as possible, because it appears that the social network user names are commonly listed in the search results (and not to mention the ownership or partnerships tend to marry the search engine to the user databases of social networks). Sometimes the name "Walk the Web" is not available so I had to go with variations such as "WalkTheWeb" and "WalkTheWeb3D". In addition, I have ADishno, HTTP3D, and HTTP3DInc as some of my social network names before this effort.
So, now "WalkTheWeb", "HTTP3D Inc", and "ADishno" all have good responses in the search engines and each time I have something to post, I post it in approximately 20 social media websites (well, me and a couple others assisting now). Some day I might have to have a contest to see who is following me on the most networks (excluding my supportive wife Karen of course)!
So I have to keep working to get "Walk the Web" and "HTTP3D" to show higher.
The good news is that if you find any one of my sites (web or social network sites) they tend to all be connected and point to the others with links. Maybe it is time to become a Wiki writer, it has to be easier than my dissertation!
Originally posted at: https://wp.walktheweb.com/2015/08/04/social-networks-search-engine-optimization/