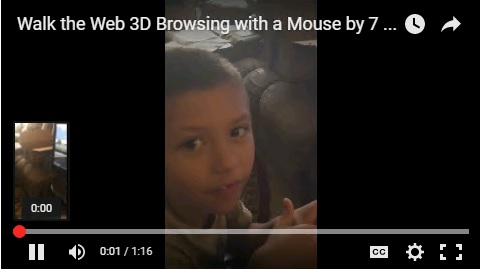 This past weekend, two of my grandkids came over for a visit. As those of you that know me can guess, I was working on my Walk the Web 3D Browsing program. The 7 year-old, Tommie Jr., came over to me and asked what I was doing. So I handed him the mouse and within 15 seconds of instructions he was zooming all over the place. I thought this would be a good way to share how easy it is to use, so I asked Tommie Jr. if he would teach everyone how to Walk the Web with a mouse.
Like the amateur cameraman I am, I cut off the video seconds too soon when Tommie Jr. ended with, "You are very welcome!".  I couldn't smile any bigger!
Not to be outdone by his big brother, 4 year-old Christopher decided he wanted to give it a try. We started with a video for Keyboard and ended with a short video for Touch Screen. and once again, minutes after I completed taping, Christopher said, "this is a fun game!".
Tommie Jr. definitely had more experience with a mouse, and Christopher actually had problems with using the mouse. His hands were too small to hold down the first mouse button and move the mouse with the trackball type mouse I use, so he was doing a two hand attempt. But when it came to the keyboard and touch screen, he had no problem. See for yourself:
It was a fun weekend. Thanks to Tommie Jr. and Christopher for showing us how easy it is to Walk the Web – 3D Browsing.
Originally posted at: https://wp.walktheweb.com/2016/03/15/4-and-7-year-old-children-walk-the-web/