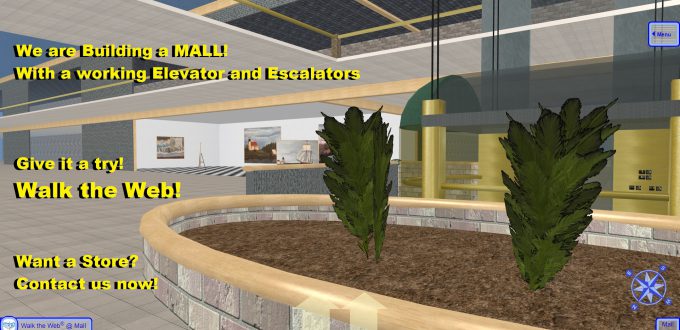 By Aaron Dishno Ed.D.
In just a short time we have made leaps and bounds into improving 3D Browsing!
After creating many different 3D Scenes to test and perfect various concepts, we are now building a Mall to bring everything together. This will be our largest 3D Scene to date. By creating this 3D Scene, we will have the opportunity to fine tune the loading/unloading and overall speed of Walking for 3D Browsing.
Currently, we have outlined the 2 story Mall 3D Building structure, created a Mall Store 3D Building template, reflective water pond, balconies, working Glass Elevator, and even working escalators! Next we are adding 3D Shopping Stores!
Now is the time. If you would like to participate in this project, program code, architect stores, create animation, write games, create graphics, etc… or would like us to create your store and add it to the Walk the Web – Mall, contact us right away!
I am calling you out! Get involved!