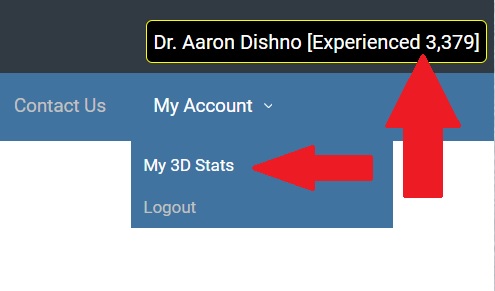 By Dr. Aaron Dishno
All of my life I have been telling myself that I am not a competitive person. Or to be more specific, I always think that I only compete with myself. Considering I am my worse critic, that seems to get me far in life.
Every day I wake up and have this overwhelming feeling that I haven't accomplished anything today. Therefore, I get up out of bed the second my eyes peek open and get to work (usually around 4:30 AM).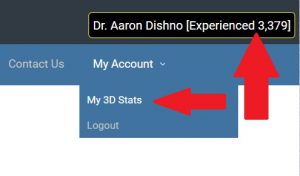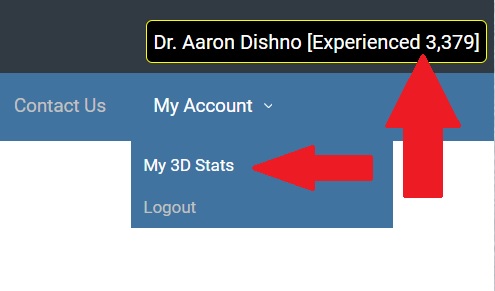 This new addition, the My Stats webpage, was created so that you and I could watch our progress. This page is geared around 3D Architects and perfecting their skills. But I am hoping that the 3D Browsing users also considering using it and trying the tutorials to become familiar with what they are looking at and testing. If nothing else, it will help everyone with the terminology we use.
After you log in, the My Stats webpage can be found two ways; click your name on the right side of the header or select the My Stats menu option under the  My Account menu item.
The points are earned based on the:
Number of 3D Objects you Create
Number of 3D Objects you Share
Number of times your Shared 3D Objects are Downloaded by Others
Click here to learn more about your My Stats – Score and Progress.
Your Rank is determined by the score and certain goals you meet. Currently, there are 12 possible ranks.
Click here to learn more about My Stats – Rank.
When I added the My Stats – Score and Rank pages this week, I considered setting my rank to Founder. But then the competitive side took over… If I am to expect others to want to work their way up the Ranks, then I need to do it too.
So right now I am at Experienced 3,379. I challenge everyone to try to beat me to Guru! So much for idea that I only compete with myself! lol
In fact, I make no promises, but I am thinking I would look at your ranks and points when I need to hire another programmer. hint.. hint…
Happy 3D Browsing! Let the challenge begin!